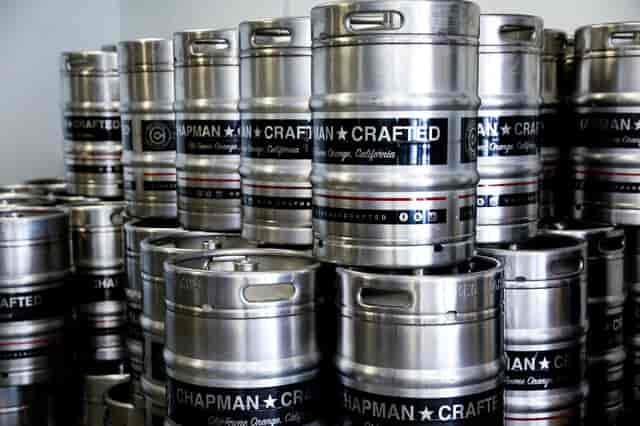 Online Ordering
pickup & local delivery
Click below to order directly through our point-of-sale for pickup and delivery.
For delivery orders, we are currently starting with two planned routes per day, leaving at roughly 2p and 5p. Generally, orders placed within 30 minutes of those times will go on that route. We are starting with a $25 minimum delivery order and serving most of Orange County. A valid ID (21+) must be presented at time of delivery, and we cannot deliver to intoxicated individuals. Unfortunately, we cannot by law do "leave at door" deliveries of alcohol, but we will work with you to have a no-contact delivery and maintain social distancing.
Now Shipping to all of California
Full cases of Chapman Crafted beer (24x16oz cans) can now be shipped overnight in CA! See below for details about the process.
Shipping costs and CRV are included in the case prices. Just select "Golden State Overnight" as the delivery option during checkout, it will appear as $0. Sales tax is additional and will appear at checkout.

VERY IMPORTANT: An adult (21+) with valid ID must sign for the package. Legally, alcohol cannot be left at your door.

We will fulfill orders Monday-Thursday to ensure the beer arrives as fresh as possible (our courier service, Golden State Overnight, will not deliver on weekends).

Orders placed before 2p will ship same day, arriving the next day. Orders placed after 2p Sunday-Wednesday will be shipped the next day, arriving in two days. Orders placed after 2p on Thursday through 2p Sunday will be shipped the following Monday, arriving Tuesday.

We know that last one is a bit confusing. We'll email you a GSO tracking number when your package has shipped, so you know when to expect it.

Once the beer has shipped, it's out of our hands. We do not take responsibility for delays by GSO, or if an adult is not available to sign at the time of delivery.

Any other items purchased on this store will be shipped separately from full cases of beer.
Sorry, but we aren't able to ship our beer cold at this time. We hope to be able to offer this in the future.
Sorry, we can't legally ship beer out of state. Talk to your state legislators if you'd like to see this option in the future!